Some people will say that you are crazy to consider riding a bike in a country like Indonesia. Most Indonesians are oblivious of the traffic laws and some don't even bother to get a driving licence. The traffic in Indonesia is hectic and dangerous they would say, but I say screw it – riding a motorbike in Indonesia is the most natural way to getting to know the country as most locals travel by motorbike, even kids. It is not to say that you need to be a hard-core biker to ride in a country like Indonesia, but I would advise that you have your skill and confidence in check and an open mind to cope with the roads and the traffic. Once you do it's an enormous adventure and lots of fun!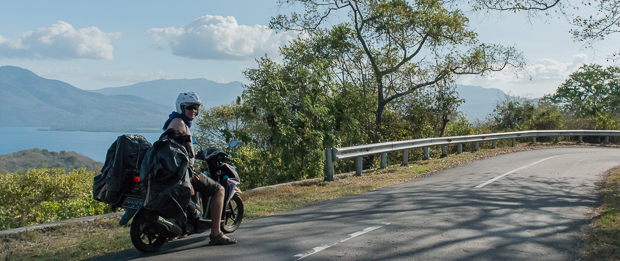 Here are some lessons we have learned that we hope will help you picking the right motorbike and gear for touring Indonesia.
Where to rent a motorbike
But I am getting off the topic. So how do you go about renting a motorbike in Indonesia? When you pick your starting point of the journey across Indonesia you may consider plane ticket prices, what you want to see and what route would be most convenient. Although if you are up to covering long distances in Indonesia by motorbike consider where you will have the biggest choice of reliable bikes that will get you around the country. The answer is – undoubtedly Bali! Bali has been a hotspot for international tourism for years and created a market for all sort of services aimed at the tourist industry. You will find the most motorbike rental shops in Bali and direct consequence of that fact – the best deals you can get.
Legal requirements for riders in Indonesia
First things first. Let's go through boring legal stuff. International Driving Permit – you do need one in Indonesia and it has to specifically have a category A (motorbike driving licence) marked on it. If you don't have that and you are stopped by the police you may get away with a bribe, but you never know. Another thing is a motorcycle registration document. I cannot stress that enough, you have to have an original not a copy. Most rental shops will tell you that it is okay to ride with a copy, but it is not true. Especially when you plan crossing the sea to another islands you may be asked to provide an original registration document of the bike and if the police stops you asking for it, and they will at some point particularly in Bali and Lombok, you will need to pay up or have your bike impounded for up to 30 days. So when you are looking for your best deal keep that in mind. I even requested a copy of the document confirming ownership to be on the safe side, but this is not legally required. Basically the minimum you need is a valid category A International Driving Permit and an original Indonesian registration document for the motorbike you are riding. And obviously a helmet – it is required by law!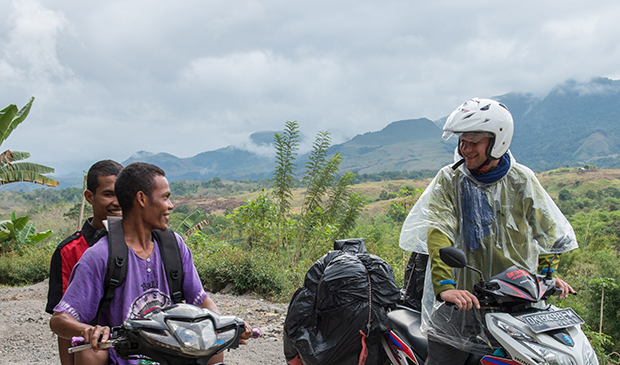 Where to start
Denpasar, the city you are most likely to arrive at in Bali, is not a small town so you may feel confused when it comes to where to start your search for a dream machine that will take you everywhere you need to go. When you ask for a rental quote and tell the shop you want to take the bike across to other islands you may hear a simple no in reply. Rental shops are wary of allowing their bikes out of Bali as there have been cases of people calling them from Lombok asking to pick up the bike from there when they have been safe at home in Europe or America. Do not get discouraged by that. As long as you get an original registration document you are free to go wherever you want within Indonesia, but you need to respect the contract you sign and return the bike to the place you agree you would. My suggestion would be to look for a business outside main tourist areas like Kuta like Canggu, Sanur, or Ubud.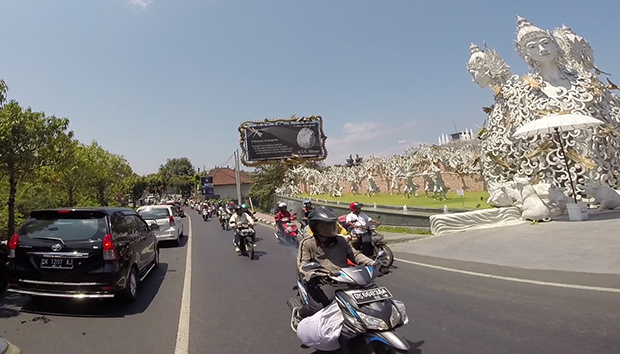 Renting vs. Buying
One thing you need to understand about riding in Asia is that bikes larger than 125cc. are hard to come by and in some cases illegal to ride. Most of Asian courtiers get by with 125cc. bikes 150cc. being considered a bigger bike. You will not find a 500cc or above easily in these parts of the world so be prepared to make the best of what you get. If you are feeling down by now consider that the standard bikes available in Asia are mostly super cheap to maintain or repair should you need to do that. The advantage of renting versus buying a bike is that you can get a lot more for your money. You can rent nearly brand new bike for about IDR 1,000,000 a month which is about GBP 50 or USD 80 and buy a used one that has been run down for a minimum of IDR 5,000,000 and you may expect to spend more on repairs especially if you press the bike hard during your adventure.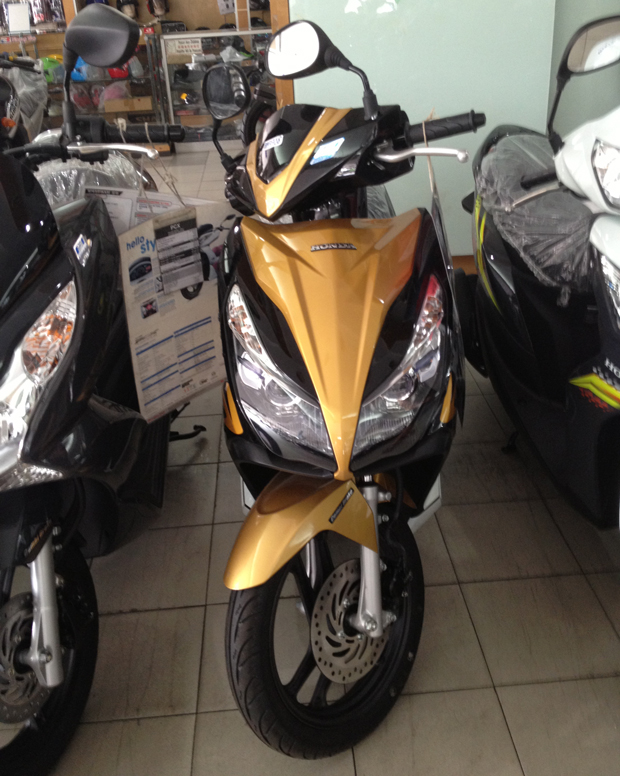 Our bike of choice
The bike we chose was Honda Vario Techno 125cc. a 2013 model with fuel injection and liquid cooling which comes handy in the heat. Although the bike is an automatic scooter type thing it carried us and all of our luggage comfortably even along most challenging roads, hills, mountains and even across some river beds. The seat of Honda Vario Techno is one of the widest in the market and there is enough legroom to accommodate even a larger bloke or gal. I myself am 186cm/ 6ft2in. in height and felt surprisingly comfortable even during 300km days. Honda Vario Techno 125cc. has another important feature – a strong metal tail piece that will allow you to install a backpack rack or a tail box. The bikes specs say that you should not put more than 10kg of weight in the back, but we have tested it with around 50kg of luggage (two large backpacks 20kg each and a small one approx. 10kg) and it worked surprisingly well. Having said that you need to understand that such a weight puts a lot of pressure on the rear tire so I would recommend replacing it for a brand new one before you set out. We have learned it the hard way and only replaced the tire once it got misshaped after 2000km and numerous inner tube punctures. After the replacement we have suffered only one flat tire in the next 4000km we did.
Your luggage on the motorbike
How will you carry all you need during a motorbike trip is a major question for most people contemplating motorbike touring. Obviously you can ship your touring bike from home and have the advantage of all the side boxes, pillion boxes and whatever you have the bike kitted with, but this is a rather expensive option and should the bike need any repairs most likely it is going to be difficult to get spare parts not mentioning the cost of it and the delays you will be facing. We opted for kitting our Honda scoter with a backpack rack of our own design.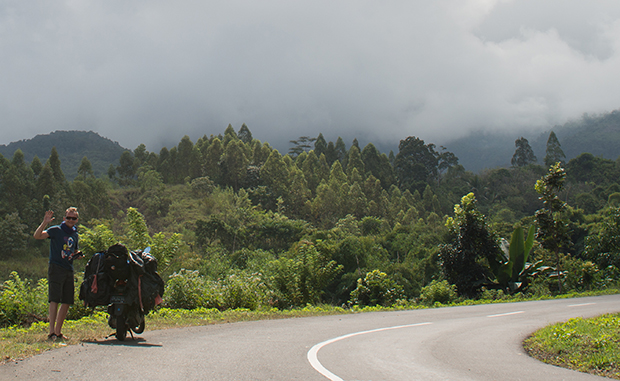 How to make a backpack rack
The question should really be where. From what we have learned touring Indonesia by motorbike is not really that popular with tourists so it is not that easy to have a proper rack made as most local people consider the idea of covering thousands of kilometres with your bags on your motorbike crazy. On the other hand in Bali a prime surfing destination we saw scores of people riding bikes with surfboard racks that looked quite sturdy. That gave us an idea of finding a surf rack shop and have them make a backpack rack for us. It again is not as straightforward as you think due to the language barrier. Having talked to several motorbike rental shops in north-western Denpasar we have been recommended a reliable surf rack shop. Once we got there and talked to the owner, or rather used our sign language and hoped he understood English with few Indonesian words in between, it appeared he wasn't interested in making a rack for us saying it was not possible or too difficult. It took us an hour to convince him that we believe in his abilities and explaining our vision of the finished project before he reluctantly agreed to make it for us and made an appointment in two days' time.
We brought our bike as agreed as the rack was custom made to fit it and spend a full day literally showing our vision to the man with a welding skill for him to make it a reality. The process required some creativity and persistence on our part, but at the end of the day we had a backpack rack that ideally fitted our bike, would carry our luggage across Indonesia and hopefully other countries we plan to visit.
Coverring long distances with passenger and luggage
Seriously, we were so happy with the rack the man made for us that we took it with us to Malaysia and now Vietnam. This piece of equipment carried our bags for 6000km in Indonesia and is now carrying two 20 kilo backpacks in Vietnam on a different model of Honda – Airblade. Having setup like that will allow you to ride a motorbike with passenger, two large backpacks and a samller bag or backpack across pretty much any country you think of touring. Safe and adventurous journey!
Useful information
We have rented our bike in Canggu from Benny's Motorcycle Rental (tel. +62 831 1997 6032) the establishment I can highly recommend. Their bikes are new and reliable and they present an unprecedented level of customer service.
Our rack was made by Bengkel Las. Adress: Jl Merdeka Raya no. 75B, Kuta-Bali, tel. 0817 975 20 77. The shop makes surf racks for many rental companies. English is limited, but a great welder, metal worker.