Into the Jungle
If you want to escape from civilisation for a few days we recommend visiting Khao Sok National park on a guided tour. Surrounding one of the largest and probably most beautiful lake in Thailand – Cheow Larn is the oldest evergreen rainforest in the world. It awaits both more and less adventurous visitors.
Watch animals in the wild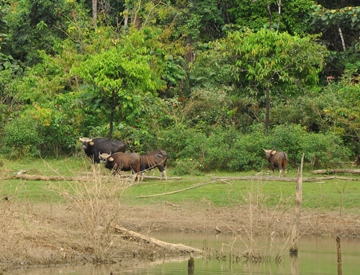 Khao Sok is a home to many wild animals including elephants, gibbons and rare Asian buffalo as well as abundance of fish and bird species can be spotted here. It's all there for you to see. The lake itself offers some of the most magnificent views in Thailand. It's limestone cliffs sinking into the blue water are similar to those of Railay Beach, with the difference that you will find lots of them and very little people. It is easy to find a private cove on the side of the lake that will be all empty and quiet for you to enjoy some swimming or animal watching.
Go deep into the jungle
You will have an opportunity to see the furthest parts of the lake where there is no cell phone coverage and only nature to explore. You can sleep in the floating bungalows. The bungalows float on the lake anchored to the shore. The whole village raises up few meters with the water level during the wet season and drops to with the water level in the dry season. The huts are very basic, but the whole experience spending time in the wild gives a visitor is definitely worth it.
Experienced local guides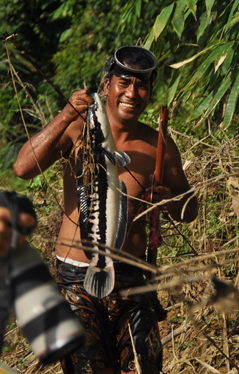 You can be taken for series of trips by an experienced guide or a ranger who will help you to discover rare animal species going about their regular lives the same way they were everywhere else in the region before men dominated the nature. The scenery here is mesmerizing. You will find yourself in places you can find in National Geographic movies – not regular holiday photos. You can spend there a night or a week depending on how much time do you have on your hands and how big a nature lover you are.
Flexible accommodation options
If you are not a fan of accommodation that basic you can choose more convenient location. There are a few places to stay here and most of them offer sensational views and experience. These are not going to be as secluded as the place mentioned above is, but will definitely be a good choice for those less adventurous.
Location Location Location !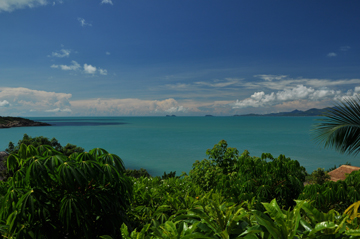 Khao Sok National Park is a natural sanctuary that should be a part of a plan for any serious traveller. Considering it's location it can be a great stop before hitting beaches of Andaman Sea or Gulf of Thailand. Koh Samui and Koh Phangan in the gulf for those party loving souls and amazing Surin Islands on the Andaman Sea close to Myanmar border more suitable for those wanting to escape the crowds can be reached from Khao Sok.