Own an elephant for a day
Actually for a day or more. Eexperience these magnificent animals in a very special way with full guidance and support from experienced mahuts – elephant keepers.
Learn how to ride an elephant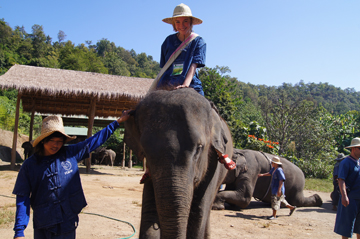 During a one day trip you will have the opportunity to learn more about elephants, get theoretical and practical training on the riding technique and finally ride an elephant though the jungle covered hills of Northern Thailand.
The Elephant Sanctuary we recommend is in our opinion one of the best facilities of this kind. The animals are cared for here. Daily nutritious meals and daily walks keep the elephants in shape.
Elephants are not made to ware any saddles as this hurts the animal and constrains it's natural movement so you will be riding them bareback. Bareback elephant riding gives an wonderful experience and is absolutely safe as long as you follow your guides instructions and are reasonably fit.
Safety first
When you go elephant trekking you will each elephant will be accompanied by at least one guide for your safety. Trips are organized in small groups of no more than eight people but private trips can be arranged.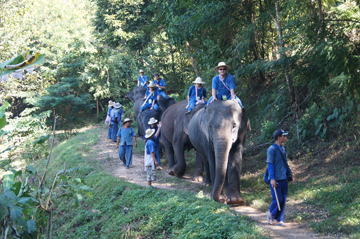 These are not wild elephants, unfortunately there is very few of those left in the world, but if you want to do some wild elephant spotting take a look at one of our Trip Highlights – Into the Jungle. Wild elephants and many more wild animals can be spotted in Khao Sok National Park.
Elephant trekking
During your elephant trekking trip you will cross a river on the back of an elephant and follow one of the trails up picturesque hills of Northern Thailand. You will stop for lunch in at some point. From there you will follow the trail to the mud pond where elephants will take their mud bath. You are free to watch or join in and help the mahuts with the animals.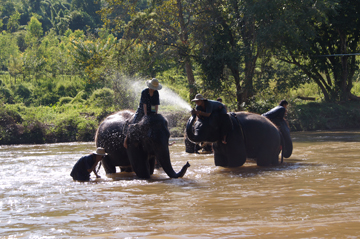 The mud is good for human skin as well so you may ask one of the guides to help you find a clean mud source to enjoy some yourself. After the mud bath you will head back to the camp with one more stop by the river – elephants need to wash the mud off after all – we suggest you do the same. The water is quite shallow in the dry season, but the current can be quite strong so you can enjoy the view from the shore if you are not a swimmer.
Few days at an elephant camp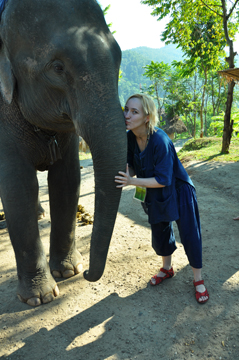 You can stay at the camp overnight or even few days and spend more time with the animals as they eat and go to sleep and spend some more time bareback riding. There are nice recently build bungalows available for tourists.
These are gentle and emphatic animals and riding them can make your trip to the region an unforgettable experience.