Complete Holiday Experience
Two weeks is what most people commit to their holidays. It is sufficient time to see a bit of the world and with proper planning you should be able to do both sightseeing and sunbathing.
Pick your destinations and the route
If you are up for more packed schedule you can start off in Bangkok or Kuala Lumpur. Kuala Lumpur gives you an easy access to Cambodia by air or Southern Thailand by air
and sea combined. Malaysia itself is an interesting country to visit, yet it being far more developed than Thailand or Cambodia so you cannot count for as much quiet time in Malaysia as you would in other countries – at least not in Malaysian peninsula. Head to the island of Borneo which Malaysia share with Indonesia and the story changes completely.
Great Island of Borneo and Sipadan
The interior of both Malaysian and Indonesian part of Borneo is largely undeveloped what makes it ideal place for nature lovers or those just looking for some quiet time. The coastline of Borneo is one of the most beautiful with many paradise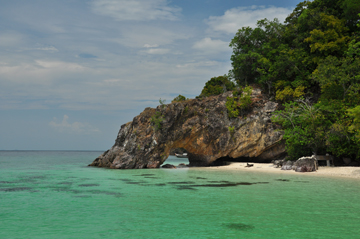 islands you can visit. The most famous of those in the Malaysian part of Borneo is Sipadan Island which is an incredible marine life sanctuary and has been voted in the top of diving spots in the world for years. Even though it is very well known worldwide Malaysian government runs heavily limited permit scheme issuing under 150 dive permits per day what enables to preserve the area and allow it's visitors to explore truly pristine environment with one of the largest variety of marine life one can spot in a single location. Click here to read more about Sipadan Island.
It should be possible to visit Cambodia for a week of temples and Khmer history and spend another week diving, snorkelling or exploring the interior of Borneo.
Enough time to explore Buddhist culture and enjoy beach holidays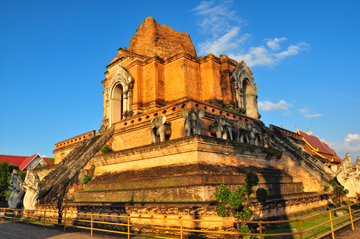 You may want to take a different route. When you arrive in Bangkok for example it is convenient to start jour journey north from here. You can visit old Thai capital of Ayutthaya and continue north to Chiang Mai and Chiang Rai in the Golden Triangle. In the north of Thailand you can sink into Bhuddist culture which more evident here than in any other part of Thailand. You can visit different hill tribes, amazing caves and waterfalls, do some elephant trekking, rafting or see some of the most amazing Bhuddist temples in the world including the largest in Thailand – Wat Phrathat Doi Suthep.
National Parks of Northern Thailand
The north also offers some of the most secluded locations you can enjoy in Thailand. The mountains of the North house some amazing Thai national parks where you will find some milder climate as for this part of the world in the dry season and will be able to chill by the sounds of the jungle or take long walks surrounded by pristine nature.
Pristine white coral beaches short flight away
Take an hour flight south from Chiang Mai or Chiang Rai and you will find yourself on the Andaman coast or the Gulf of Thailand. You can start your beach holiday part of your trip here. You can either stay in a single location or do some island hopping staying a night or two on each island. If you are looking for more sunshine and the sea than the temples and
sightseeing you can easily spend your two weeks here. Full two weeks on a single island or a few may be a perfect way to regain some energy especially for those that come from courtiers when sunshine is not in such abundance that it is in Southeast Asia.
Many possibilities for great holidays
There are really too many options you can choose during your two week vacation to list them all here. Please contact us if you need a piece of advice about your holidays.