Today we saw two broken surfboards, an ambulance taking a surfer to the hospital and a helicopter airlifting another who as we have been told ended up in a coma after having almost drowned. We are not even surfing nor were we looking for surf related excitement, but stories like that seem to be common at Lakey Beach a surf spot in Sumbawa apparently recognized by its difficulty, yet it seems not by everyone.
Lakey Peak is said to be an ultimate break in here and we are leaving just in front of it so it is a bit sad that we don't feel like testing our luck on it, but after what we saw we take what experienced surfers told us – it is not a place for beginners. The wave splits on Lakey Peak when it breaks so you have a consistent right and left hander to surf on.
Like I said we did not come here for the surf, but to get some rest after a long journey from Flores to Sumbawa Island. We had to add about 70km (35km each way) to our journey by straying off the main road, but saved ourselves about 4 more hours on the motorbike to reach Sumbawa Besar – our next destination. We had some doubts about the quality of the road leading to Lakey Beach after reading some posts on the web, but luckily the road turned out to be excellent by Indonesian standards.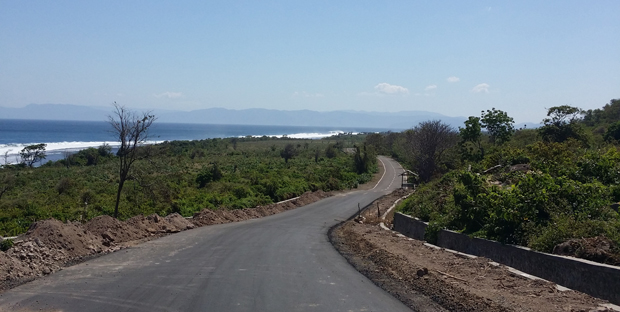 After getting ourselves checked in to a bungalow place that later appeared to be located in front of the most popular break here we directed our next steps in search of food. We found a way to the restaurant next door as the one in our place was closed despite receptionist claims that it is open. When we entered we saw it was full of people, but it took us a few seconds to get a feeling like we were inside of the Hitchcock movie as everyone was sitting facing the same direction staring at a distant point like if they were hypnotized and no one paid any attention to us.
When we overcame our surprise we quickly realised that everyone was watching surf video on the projector screen. Even though watching surf videos and being quite serious about it is common to all surf bars I visited I never saw so many people doing it with such a dedication like in Blue Lagoon Restaurant in Lakey. After about half a minute we have asked a random person if they served food there to which he replied that they did and pointed us to a stack of menus lying on the bar. When we got there and started looking through the menu, still no restaurant staff in sight, a middle aged man shown the initiative in talking to us and telling us the kitchen is closed between 3 and 6pm, but we could take a seat and use the internet until it opens. He later turned out to be the owner of the place.
Blue Lagoon serves the best food we have had in Lakey, but like you can imagine do not come here expecting quick service as waiting for a meal can take up to an hour, but when it arrives you are in for a treat. The food is of very good quality and portions are large so you will surely not leave this place hungry even if late for your appointment. On the other hand it would be silly to make appointments when coming to a hard core surfing spot as no one in their right mind does. So honeymooning here would be ill advised unless you love surfing and are ready to see sharp reef up close when being pounded toward it by a 10 foot wave.

This seemingly bizarre restaurant experience shown us what Lakey Beach is really about – surfing. It is difficult to find any foreigner in Lakey that is not into surfing, apart from us that is. The whole place is super laid back. The only time you can see anyone rushing anywhere is when you watch the surfer jogging to or from the beach. Other than that everything happens in slow motion. It is a nice relaxed village where you are "brother" or "sister" to almost any English speaking local you meet. The whole place is all about surfing, but if you are looking to chill and enjoy some sunshine on nearly empty beaches you will also find it there. During the day to do that is to go to the west end of the village where 2nd most popular surf spot after Lakey Peak.