If you are planning an island hopping trip in Indonesia local style ASDP is a national ferry operator that will take you across the sea between major Indonesian islands. Should you be taking this trip by motorbike or a car ASDP is your only option. There is another national operator Pelni, but it provides passenger services only, so no motorized vehicles are allowed on board. It may be a good choice if you plan to travel further in one go as it provides long distance trips inside Indonesia like Maumere in Flores to Surabaya in Jawa. ASDP on the other hand following its slogan "We Bridge the Nation" connects individual islands that have a harbour big enough to host their ships.
ASDP ferries operate daily between central and western Indonesian islands sometimes running 24 hour service with ferries every one or two hours like Bali to Lombok, but when you need to travel east especially within East Nusa Tenggara province the service is not as frequent with cancellations and delays being relatively common. I am including 2014 schedule of ASDP ferries in East Nusa Tenggara, I have taken a photo of in Larantuka, Flores, yet please take it as a guideline and do your best to confirm times either in the port or via a local person who can call ASDP helpline. You can try calling the helpline yourself if you are brave and especially when you speak Indonesian. I have tried but I have been hung up on in an instant when I asked if they spoke English. They did not answer their phone after that and I stopped trying. Indonesia is a beautiful country full of friendly people who are at the same time not very good in English and sometimes are not well informed, but still eager to provide you with what they think is useful.
To give you a picture this is what happened this morning. I went to the ASDP office in Labuan Bajo harbour. There were some people already flocking near the entrance. Suddenly an employee emerged and when approached with the question about ferries for today he replied that there is none. I was doubtful that he understood my question so I asked people flocking if anyone spoke English. No one replied initially, but moments later a young man who just finished reading the information posters told me that there will be no ferry until 8 days later due to rough seas. Being determined to leave Flores for Sumbawa sometime today I inquired people inside the office building to see if the stories I heard outside check out and after a short inquiry I learned that the ferry should leave between 10pm and 4am next morning. I came back three hours later to check with yet another ASDP employee and he has confirmed that the ferry should indeed leave by 4am next morning. We still don't have tickets as the ticket office opens at 6 or 7pm depending who you ask, but are hopeful that we will be able to continue our journey sometimes within the next day.
I hope that this story will not discourage you. Travelling by ASDP ferries is totally doable. After all we have managed to get from Bali to the southernmost inhabited Indonesian Island – Pulau Rote. It took 5 separate crossings. It is not for everyone though as it does require persistence and sometimes nerves of steel especially when you board or trying to get your motorbike off the ferry. The ferries can be extremely crowded with cars, motorbikes and people. There is weighting of vehicles before boarding the ferry to distribute the weight equally. The distribution is done by the crew when the trucks are getting on board by the measure of their eyes I am guessing.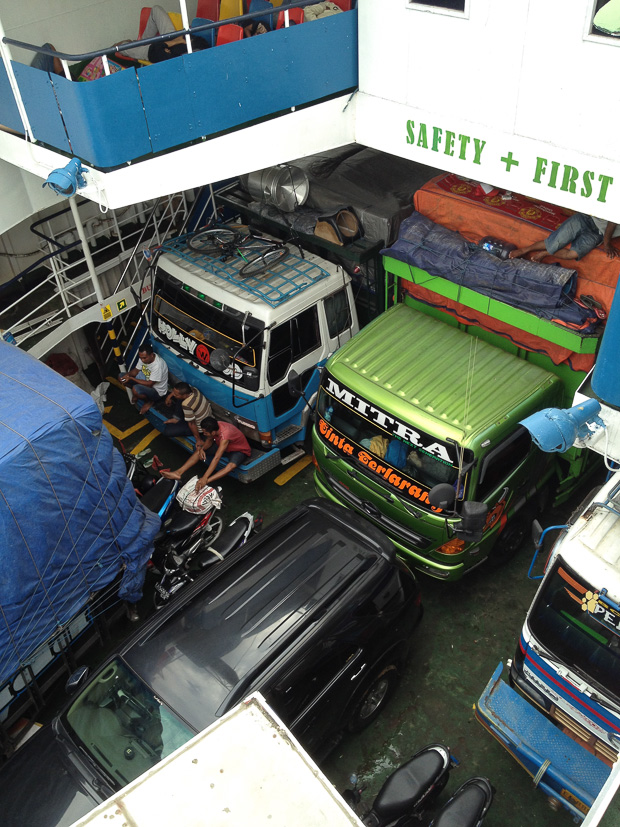 The process of getting the motorbikes on board is exceptionally hectic. Concept of queuing seems to be foreign to ferry passengers and everyone seems to be pushing ahead even before the gates are open so you will notice how relatively loosely spaced motorcycles start crowding closer and closer to the entrance as the time of departure is thought to approach. When the harbour staff open the gates it is pretty much everyone for him/herself. You ride practically shoulder to shoulder with other motorbike riders and if it wasn't for the staff letting people through the gates in relatively small waves the process could easily turn into a carnage.
It is the same when it comes to getting off the boat, but this time it is even more chaotic. Most motorized passengers start their engines even before the ferry reaches the shore and by the time it does and the ferry gate begins to drop almost everyone is revving their engines trying to rush the crew to hurry up or maybe suffocate other passengers so the ones that can hold their breath the longest will be the ones who reach home that day 😉
When it comes to buying a ferry ticket it seems to be enough to arrive an hour before official departure time or maybe two hours if you want to be extra prudent. We have not noticed there being any limit when it comes to ticket sales. On most occasions you will meet majority of passengers who came several hours before scheduled departure time either because of ending connecting bus way ahead of ferry departure or in hope of taking a place in a larger cabin full of bunk beds that I haven't seen any tourist dare getting into.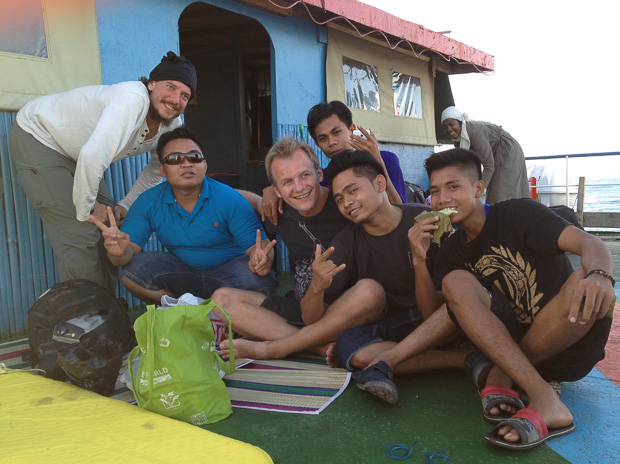 On that note there are very few tourists travelling by ASDP ferries on most routes so you are almost guaranteed to be treated like a celebrity if you are one of these few. People will most likely great you with customary "Hey Mister" regardless of your sex in most cases and some ask you if you speak Indonesian where the conversation will usually end unless you do speak Indonesian of course. But you can also meet some well outspoken locals from time to time to chat with or find another tourist on some routes to be your companion should you need one. We were the only bule (tourists) on most journeys and even once were treated to a seaweed jelly ice tea the crew were having by the chief engineer on duty. Chief engineers seems to be the chattiest of the crew with best English skills sometimes sharing darker sides of the trade which would be an indiscretion to bring forward in here.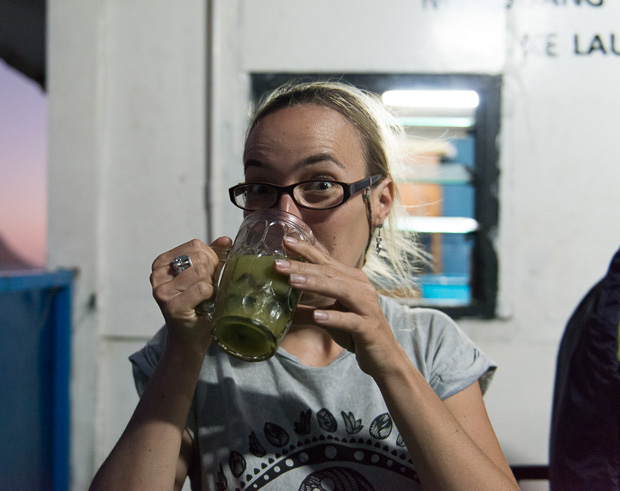 If someone asked us if it is a good idea to choose ASDP to island hop in Indonesia I would have them consider all pros and cons. Pros being; it is cheap – I think the most we have paid for two people and a motorbike is RS 250000 which is about GBP 12,5 and that was for a 20hr long journey from Larantuka, Flores to Kupang, West Timor; it is virtually your only option if you want to tour Indonesia by motorbike or by car; and the cons – look at all aforementioned and consider your time limit as well – these ferries are slow, they never go any faster than 12 mph so plan your time conservatively and make some margin for delays and cancellation. Would we do it again? Hell yeah! It is super fun to tour especially the regions that not many people visited and that are relatively untainted by tourism industry. It is very convenient to have your own mode of transport straight off the ferry without looking for rental shops that may be out of stock or not exist or rely on mass transport that may or may not get you to the place you want on time. The biggest advantage is the freedom you get by being able to go wherever you want and stop when you see something that you like. All considered I can recommend ASDP ferries to any adventurous traveller.