We arrived in Denpasar, Bali on June 27th. Since we are already in the third week of our trip this Trip Plan post will be partially retrospective. The plan is to visit islands to the east of Bali since these are not visited by tourists that often. We hope that this trip will give us more authentic feel of real Indonesia than Bali resort towns offer.

Indonesia
We decided to travel local style – on a motorbike with all our belongings strapped in the back. We started our trip from a visit in Immigration Office we went to straight from the airport to extend our 30 day Visa on Arrival for another 30 days. The time the immigration took to actually process our request we spend preparing for our motorbike trip and doing some sightseeing in Bali.
The process of renting a motorbike in Bali that a tourist would be legally allowed to take to other islands is not as straight forward as one may think, yet finally we have managed to get the bike that is right for us at a reasonable price. We had the backpack rack for our motorbike custom made in Denpasar and had an oil changed in our bike just before we set off on July 08.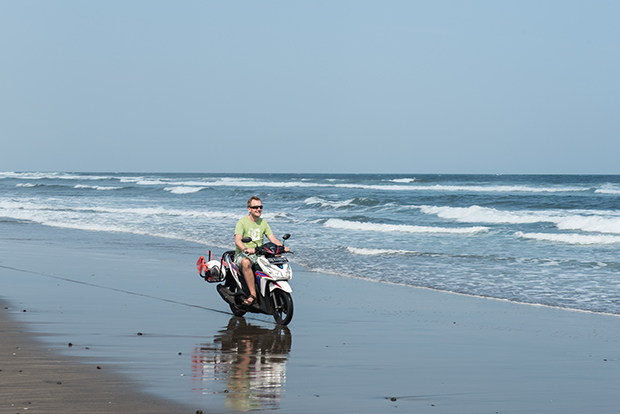 The plan is to visit following Islands
Bali
Lombok
Sumbawa
Flores
Timor
Rote
Sumba
We will cross these islands on the motorbike using Indonesian Ferries to hop between them. We plan to stop in different locations we find worth staying. We have some idea what these may be, but it is not worth listing them all in this post as our plan is flexible and we will probably make adjustments to it as we progress in our journey
.
So far we pushed forward towards Flores where we are taking it easy and doing more sight seeing. The idea was to get as far east as possible as we are not entirely sure how much time it will take us as you cannot rely on trip route times provided by Google Maps and ferry schedules may not always be reliable. We will take our time on the islands we rushed through on our way back which should keep the balance of traveling vs. sightseeing just right and help us time our trip so we get the most of it.
Today we are leaving village of Riung and heading towards Ende and Moni for sightseeing of Kelimutu Volcano. Check back for more updates on our progress. These should come regularly in coming days.